We only have
28 days
left until our little ones head back to school in our little part of the world... not that I'm counting, and I was itching to make something cute for Drama Queen to use as her backpack this year. Last year it was a combined use of a "roller" backpack, which can cause some minor accidents and pileups in the hallway at school... not my favorite backpack, and
this tote bag
that I made for her last year. I still love to see my girls use them.... So in true Drama Queen fashion, this year's bag had to be
stylish, fun, and different.
After a visit to my favorite (hubby's least favorite) store - HobLob - I was back home with this...
and this...
After a little sewing (only to make the ruffles) and a lot of fabric glue (made it so much easier) I came up with this.
You've gotta personalize this tote, I mean someone might get it mixed up with theirs.
So how stylish, fun and different is this??
SUPER fun and a super easy way to create something unique for your little one to go back to school with. How fun would one be with tulle all around it for a ballet bag?
*ciao*
Deb
I'm linking up to these parties... Go check them out!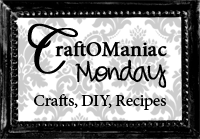 Home Stories at AtoZ